Petroleum products, including crude oil, is the most dominant source by far, accounting for close to half (45.9 per cent) of Ireland's energy mix in 2020, according to Eurostat. The country has one of the highest rates of oil dependency in the European Union.
Most of Ireland's oil is used in the transport sector, which has near-total dependence on oil-based products. It also consumed the largest share of Ireland's energy in 2019, guzzling 42 per cent.
This dependence means oil will likely remain the dominant fuel in the sector for the next decade, according to the SEAI's Energy Security in Ireland 2020 report.
Reducing oil profits "is the one thing that hits Russian macroeconomic stability the most," said Benjamin Hilgenstock, senior economist at the Kyiv School of Economics, which advises the Ukrainian government.
Oil income is the linchpin of Russia's economy, allowing President Vladimir Putin to pour money into the military while avoiding worsening inflation for everyday people and a currency collapse.
Moscow's ability to sell more to the world than it buys means it's weathering sanctions far better than expected. Its economy will grow this year while Germany's shrinks, the International Monetary Fund estimates.
 You can see from the table below, the vast bulk of Ireland's imports of refined oil products in 2018 came from Britain.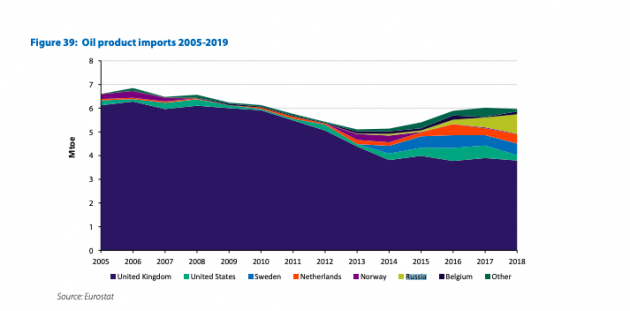 You can also see from the table that Russia is a large individual supplier to Ireland.
 But even if Ireland was not at all reliant on Russian oil, it is still useful for us to reduce our usage so that other countries supplies can be used to fuel developing nations. Because if you restrict access to energy in areas that are rapidly developing, you actually kill people. Energy poverty is a serious problem in developing countries. If they don't have access to heating, they can't cook food, they can't boil water. And children who don't have access to lighting, they can't get an education, and people can't work.[6]
"So when it comes to a global energy shortage, the implications are actually far more devastating in developing countries, and we tend to forget that."

Muireann Lynch, an energy economist and Senior Research Officer with the Economic and Social Research Institute.
Back in Ireland, the major challenge in moving away from fossil fuels relates to how energy is consumed across our economy rather than how it is produced [1]. We have over two million vehicles, over one and a half million houses and a quarter of a million businesses that use fossil fuels for the movement of goods and people, heating and manufacturing.
Reducing car dependence is the best way Ireland can help Ukraine fight Russian aggression.
The Climate Action Plan follows the Climate Act 2021, which commits Ireland to a legally binding target of net-zero greenhouse gas emissions no later than 2050, and a reduction of 51% by 2030.
The typical European car is parked 92% of the time. It spends 1/3rd of its driving time looking for parking. Its 5 seats only move 1.5 people. 86% of its fuel never reaches the wheels, & most of the energy that does, moves the car, not people.

[2]
If you would like to donate to Médecins Sans Frontières: Mediterranean search and rescue please click here